Hello, my name is Ammo, and I'm faster than a speeding bullet!
Follow along in my adventures as a Super Dog! Everyday I take you on a journey with me, whether I'm painting a picture, spending time with my Trick Pony friends, greeting customers at work, or chasing ground hogs at home - there is always an adventure to be had!
Miss-Flo Custom Made Dog Harnesses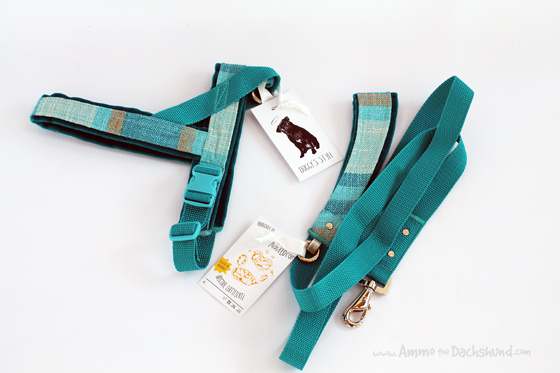 A couple of weeks ago my new pal Flo, from Miss-Flo, sent me one of her mom's custom made harness and leash sets. And boy was I excited when it showed up in one of my favorite colors – teal!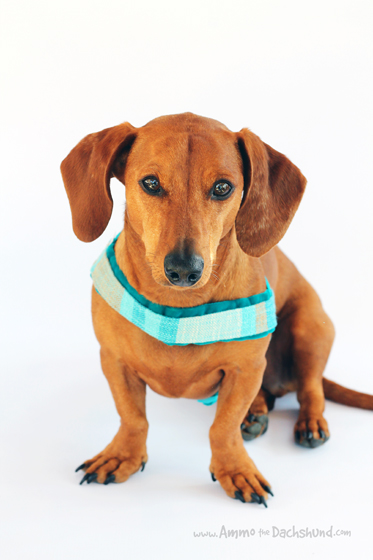 I've never been a big fan of harnesses that have straps between the legs because they feel restricting, and it can be quite difficult to find a well-made harness that just sits across the chest.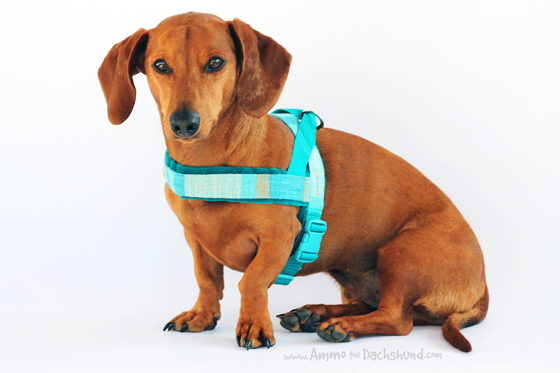 These Miss-Flo harnesses are custom made to fit each dog, so you know it will be the perfect size for your own furry friend. As you can see mine fits me like a glove, and I like that the buckle is adjustable (should I ever eat too many cookies).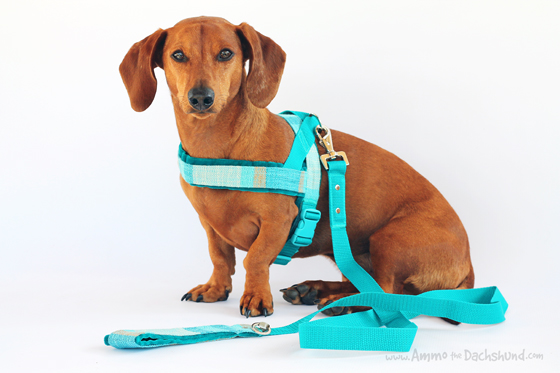 My Miss-Flo harness even came with a matching leash which boasted one of those extra strong snaps – because you can never be too careful when it comes to walking your pup! It also has a little metal loop by the handle to tie poop bags to or even snap a set of keys onto.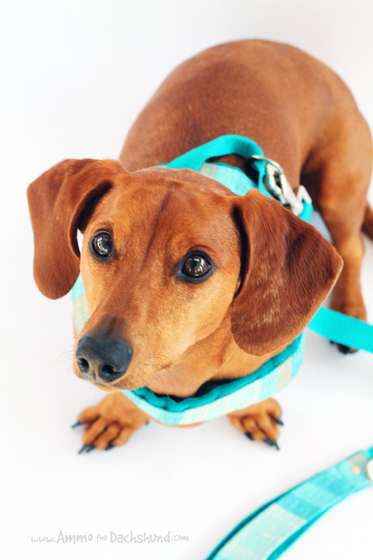 One of my favorite things about this harness was the velvety soft fabric that was against my skin. All of Miss Flo's harnesses (and even the leash handles) are lined with velvet and they come in a variety of color choices too. Never again do I have to worry about my harness rubbing me in the wrong places, because believe me when I say this stuff is oh-so-soft!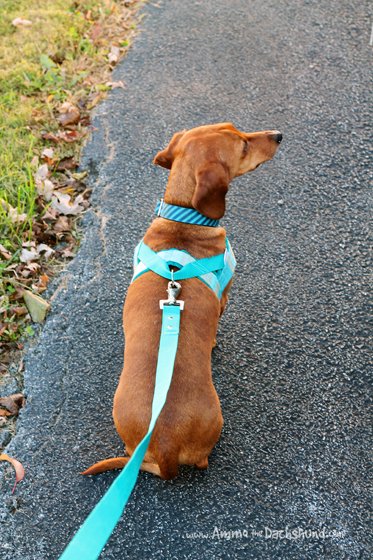 Armed in my new harness I set off to roam my neighborhood – well and mostly just show off to all the neighbor dogs how really really good looking I was in it.
You may have already noticed me wearing my new harness in some of my other blog and Facebook posts, as I've been wearing it everywhere lately – it's that comfortable!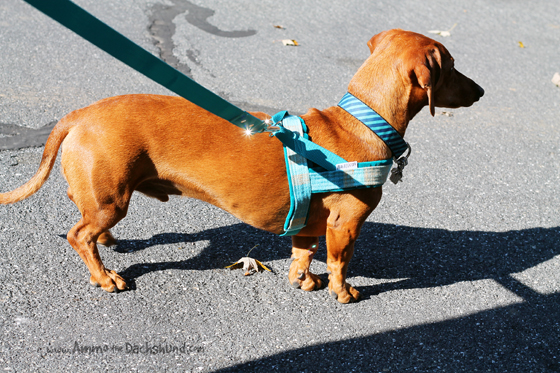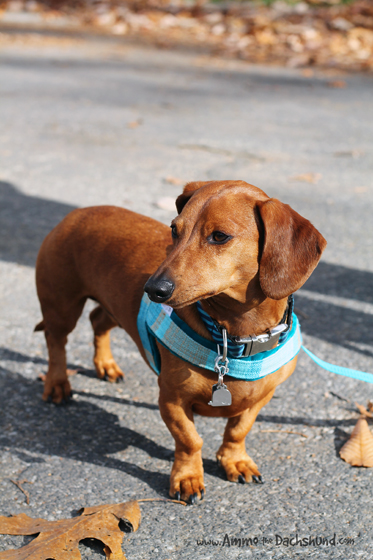 I highly recommend grabbing up one of these harnesses for your next afternoon walk – your dog will surely thank you!
You can fetch your own Miss-Flo custom made harnesses and leashes HERE. And as a bonus use the code AMMOANDFLOAREFRIENDS for a special discount at checkout! Yay!
Miss-Flo [Website]
Miss-Flo [Facebook]
Miss-Flo [Instagram]
Miss-Flo [Pinterest]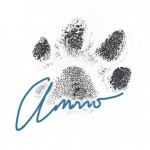 Disclosure: I received a product in exchange for a review. All opinions are entirely my own – and I tell it like it is!
12 Days of Cheer! Free Holiday Desktop Wallpaper
It's the Holiday Season, which means you should be singing Christmas carols, baking cookies, giggling, and drinking hot chocolate! And if you aren't, I expect you to start right now, because Oh What Fun it is during Christmas time! And incase you need a little something extra to put you in the holiday spirit this year, here is my gift to you, a free desktop wallpaper to brighten up your days!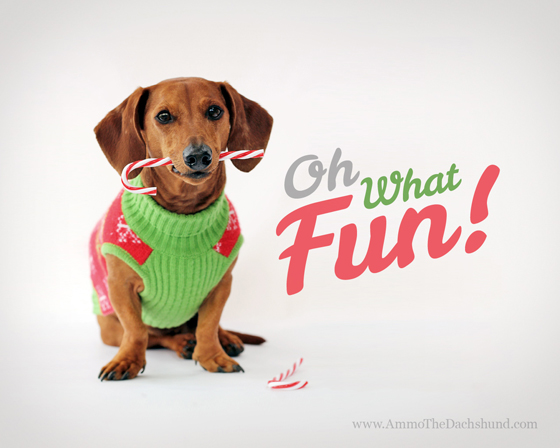 1920 x 1080
1366 x 768
1280 x 1024
1280 x 800
1140 x 900
ipad
iphone
Happy Holidays friends!
P.S. make sure you check back later today as I have a bonus post in store! Yipee!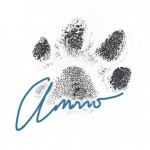 12 Days of Cheer!
Just like last year I'm going to be celebrating the 12 Days of Cheer starting today! What is the 12 Days of Cheer you ask? Why only the most awesome, spectacular, fantastic celebration of all things Holiday on the internet!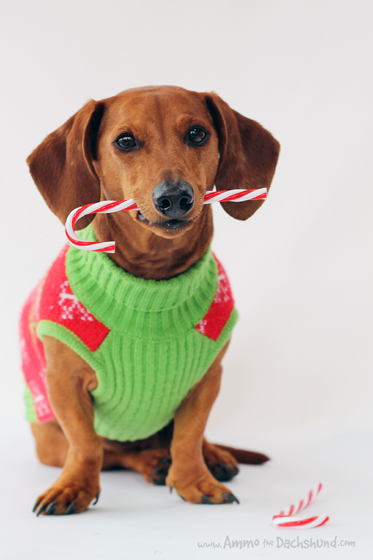 So grab a hold of your candy canes for 12 days (monday through friday) of awesome holiday DIY's, cheerful Christmas photos, holiday freebies, dog friendly gifts and so much more. It's going to be so much fun!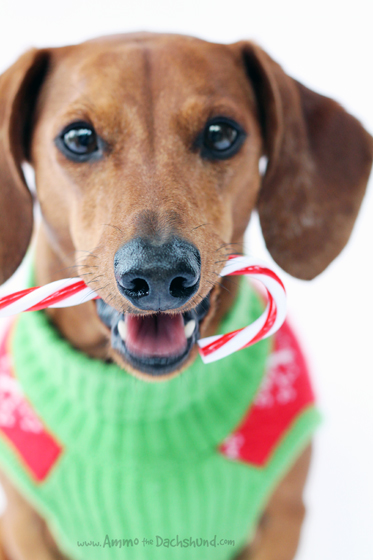 Some days I'll even be posting more than once, so make sure you check back often!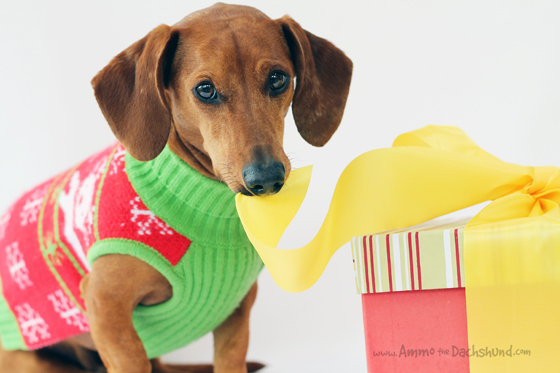 And if we're lucky maybe I'll even get to peek inside some of my own presents sitting under the tree!
*Santa if you are reading this I'm just kidding, I would NEVER peek at my Christmas gifts, I'm always a well behaved angel!
Anyway, I hope you'll join me in celebrating the 12 Days of Cheer, because it wouldn't be as much fun without you!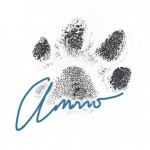 Glowdoggie Led Dog Collar Review & Giveaway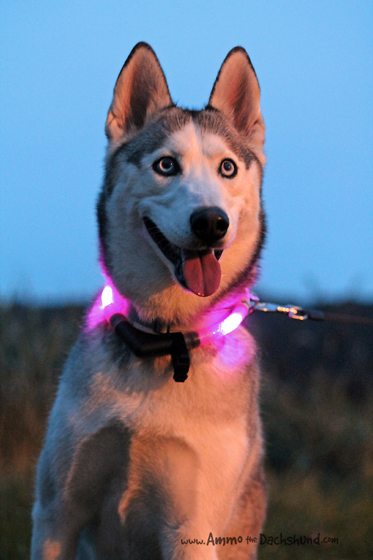 You might remember my gal pal Shilah the Husky. You might also remember that back in October Shilah and I had a little photoshoot in the park with our Glowdoggie Led Collars. Well Shilah and I are back again to share these great collars with you – and we also have a super fun giveaway too!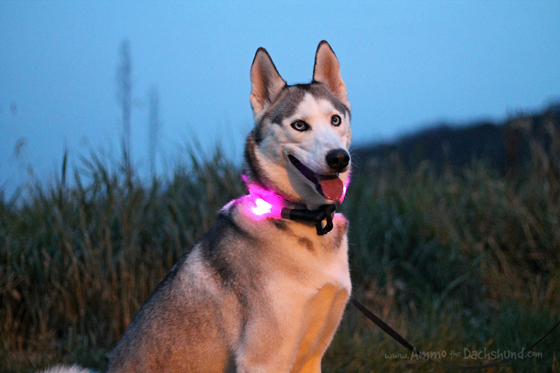 Glowdoggie makes one of my all time favorite products, led lighted dog collars designed to keep us pets safe in the dark!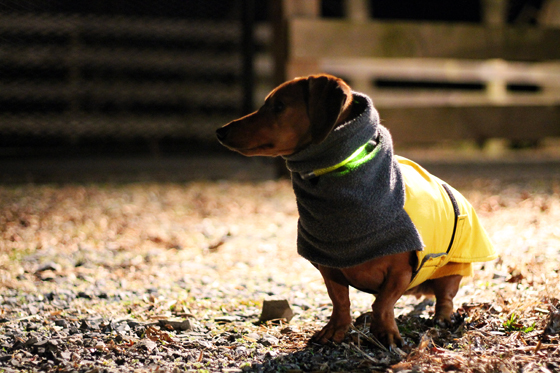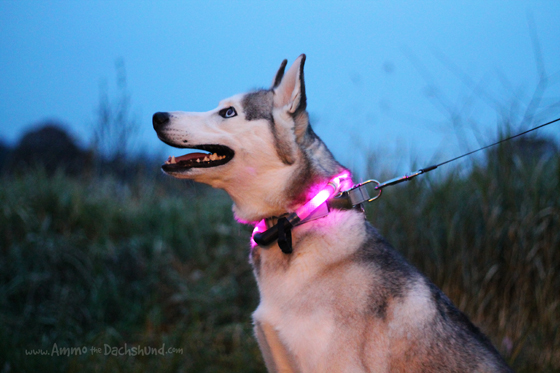 Battery operated, waterproof and durable, Shilah and I wear our collars whenever we are out in the dark.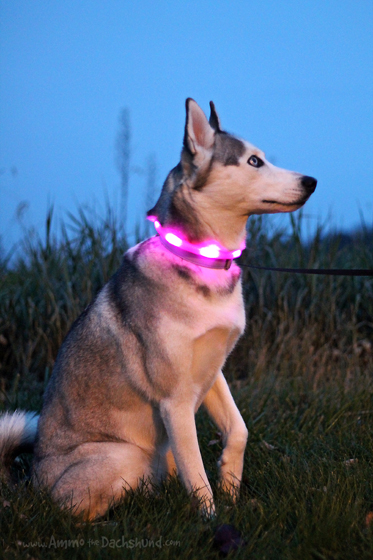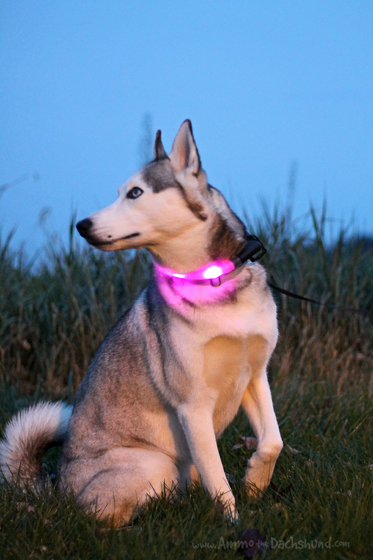 Making dogs visible to cars on walks and making it easy to find your pet at night in their own backyard, I can't say enough good things about these collars.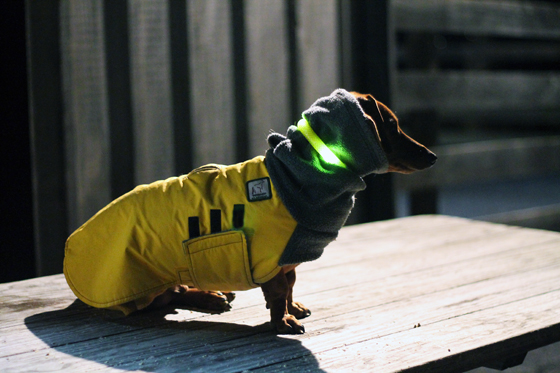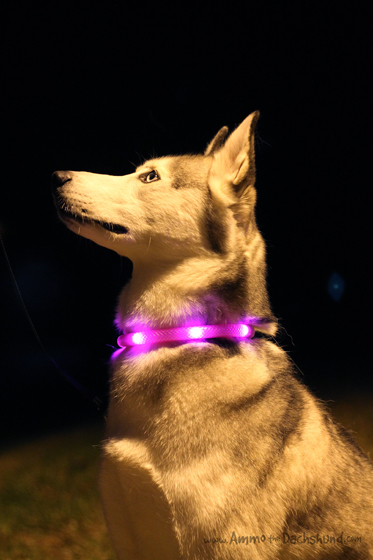 Mom always keeps one in our car for me, because you never know when you might need it! Another great thing about these collars is that there is no need for charging them, or plugging them in, or even flipping on a switch. You simply hang the collars upright (like on a doorknob) for them to turn off and they immediately light up when you put them on your dogs neck.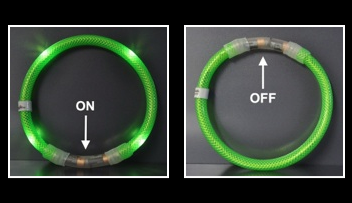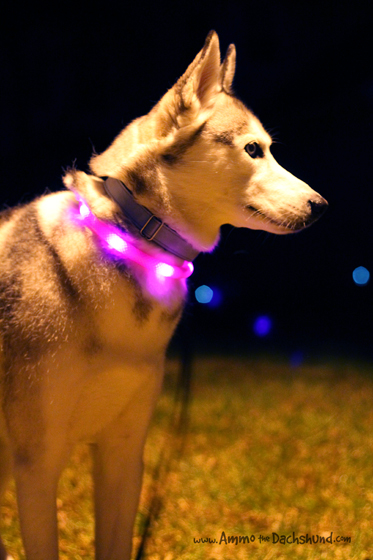 So if you're looking for something sparkly and fun for your pup's stocking this year I highly recommend stuffing it with a Glowdoggie! You won't regret it!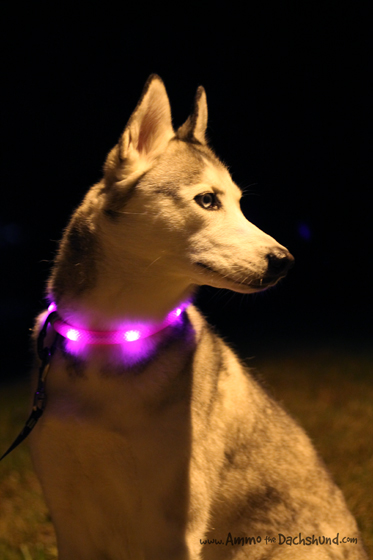 And now for the best part…..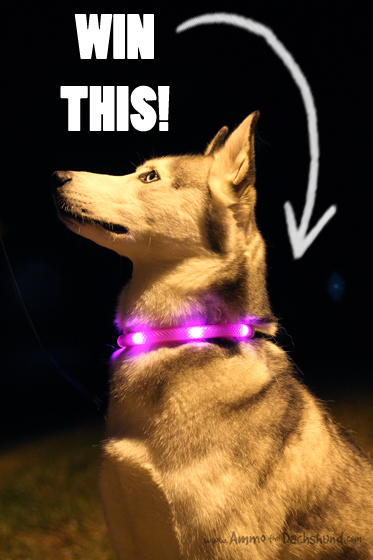 TWO Lucky WINNERS will WIN a Glowdoggie

Here's HOW TO WIN:
For this giveaway I will be using, Rafflecopter. We only use the information you provide to contact the winners and we never share it – so not to worry. Winners will be chosen at random and you will be contacted via e-mail to claim your prize. All the winners will also be announced on this blog post once the giveaway ends on 12/17/13 12AM EST. Open to US and CANADA Residents Only. Winners must claim their prizes within 48 hours of being notified or prize will be forfeited. Good luck!
You can receive a $5 refund on your Glowdoggie
purchase when you mention AMMO in the comment section at checkout!
Don't forget, today is the last day to enter my Natural Pet Warehouse Giveaway and my Hot Joe Jackets Giveaway!
Friday Fetch: Picture Your Pet as President
If you're like me, then you daydream about being the king of the world (i.e. the president), or sometimes even an actual King. Well what if I told you that you're pet could actually be these things…..well sorta. Artist Patricia Carlin created a series of prints for Uncommon Goods in which you can have your own pet turned into the president, or a king/queen, a boat captain or even a biker. How cool is that!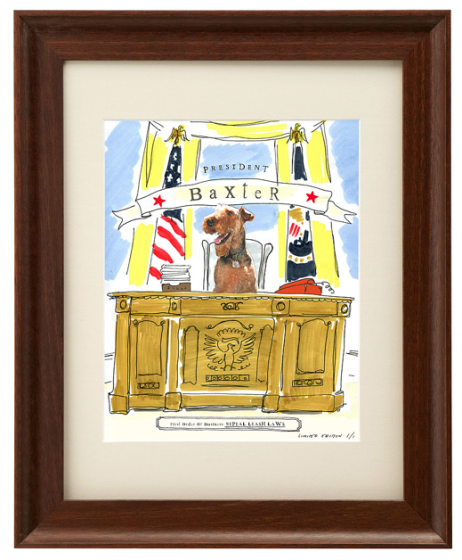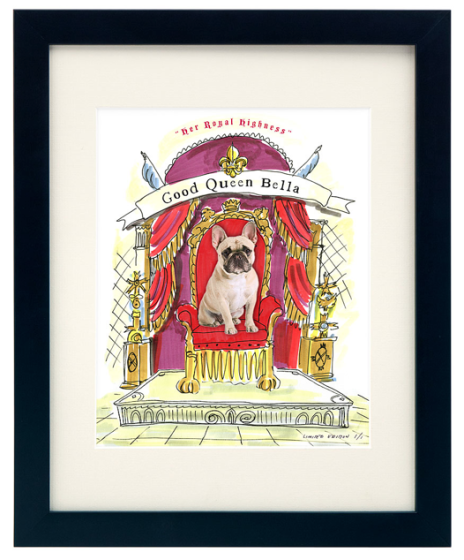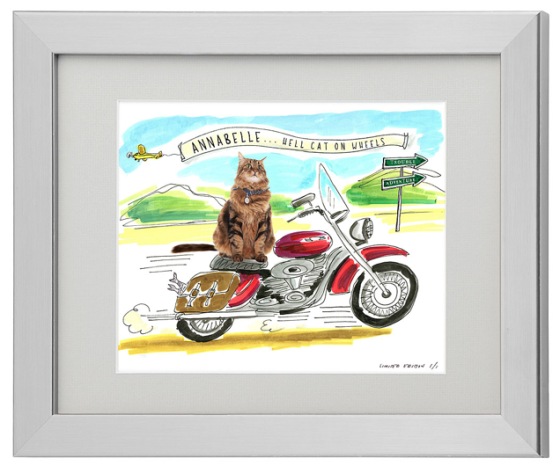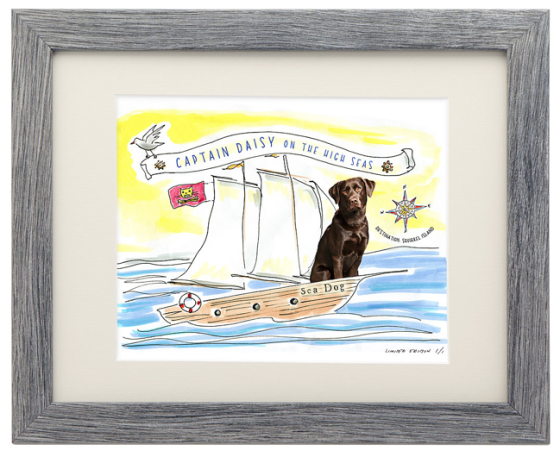 You can fetch your own print for $75 – $135, and if you order it unframed I know a certain little frame shop that has a friendly dachshund that will frame it for you! *wink*